The Ultrafine 468 from Intellipure was designed to neutralize particles, volatile organic compounds, and microorganisms, leaving nothing behind but clean, fresh air. It's the only air cleaner in the world with this capability. How did our engineers pack so much performance into such a customer-friendly package? By streamlining the design and making the most of every inch. It's something we call Total System Performance:
•1125 Square Foot Coverage Area
•Highest-quality EC motor results in 50% less operating cost
•Incredibly energy efficient, using only 5 watts per hour when on low
•The quietest air purifier of it's kind, with highest CFM per decibel level of noise in it's category
•Less dense media filters span the full height of the machine for maximum airflow and filtration power
•Lightweight, compact, portable construction
•Designed for quick and easy filter maintenance and change out
•Sleek design that looks great in every room environment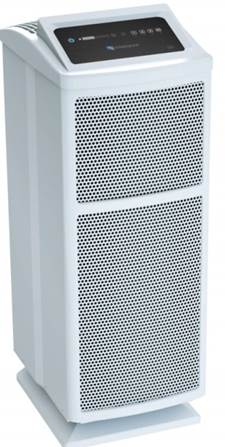 The 950P protects up to 3500 sq. ft.
99.99% DFS Filtration Efficiency – down to 0.007 micron - 40 Times More Effective than a HEPA Filter
•4 Speed Fan Commercial portable air cleaning system with:
300 CFM, 500 CFM, 750 CFM, 950 CFM.
•Designed for high VOC, gas and odor environments
•Filtration Unit CFM Capacity – 950 Cubic Feet of Air Per Minute
•Deactivates mold, viruses, fungi & bacteria inside the filter
•3 times longer filter span compared to conventional HEPA filtration
•Patented V Bank Filter- increases surface area and provides higher dust loading capacity
•Ease of maintenance- quick release filter access from the back side
•Operates at 120V/220V Dimensions: 44h × 18w × 28d (inches) 155 lbs

The Healthway Deluxe Professional 9-Stage DFS Air Purification System is newly designed 250 CFM unit with a ultra efficient EC motor with Turbo setting.
This technology is effective at capturing 40x smaller size ultrafine Viruses and particles than HEPA, efficiently removing 99.99% of particulates @ 0.007 micron. Making HealthWay the most efficient air purifier available.
It has a 9-stage VOC adsorption filter for heavy removal of harmful airborne viruses, microorganisms, chemicals, offensive gases odors and smoke.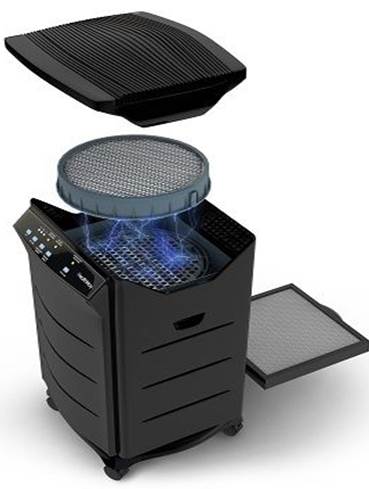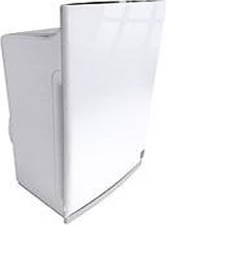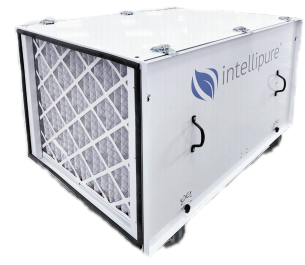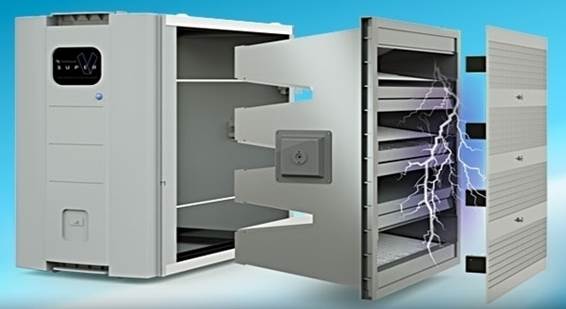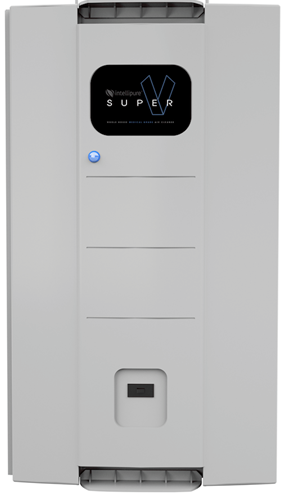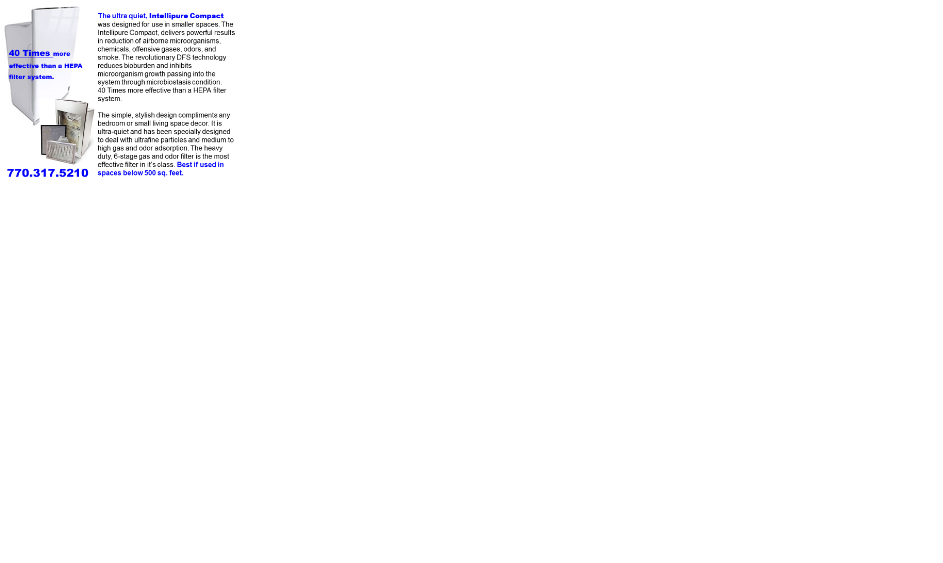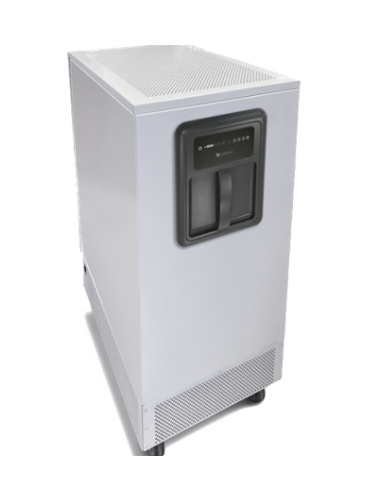 Intellipure's SUPER-V point of entry, whole-house air cleaner using DFS technology to kill viruses, bacteria, and pathogens and circulate fresh, contaminate-free air throughout the entire home. The Ultrafine Whole House air cleaner is installed outside of the furnace's blower, resulting in
lower pressure drop, and higher energy savings.
The Ultrafine Whole House Air Cleaner is designed for Asthma, COPD, allergy sufferers and households with small children, elderly and people with challenged immune system susceptible to airborne infections for both whole house, and commercial space applications.
Features
•Filtration Unit CFM- 2000 Cubic Feet of Air Per Minute
•Point of entry Medical grade air cleaning
•Greater than MERV 16 efficiency,
with half the pressure drop
•Award Winning Patented DFS Technology
•Microbial inhibition property
•Lock tight filtration seal- all air must pass
through DFS filter
•Deactivates mold, viruses, fungi and bacteria inside the filter
•Up to 3 years of filter life (at 50% duty cycle)
•211 square feet of filter media coverage
•Filter Status Light | Pressure switch monitor
•Power Consumption - 4 watts

*Unit price does not cover installation cost
Intellipure and HealthwayCommercial Portable DFS Air Cleaning Systems for Offices & Homes surpasses all other types of filtration. This revolutionary technology traps microorganisms such as bacteria, mold, and viruses, reduces bioburden and inhibits microorganism's growth through Microbiostatic condition, resulting in the most powerfulindoor air purification in the world. This technology is effective at capturing ultrafine Viruses and particles efficiently removing 99.99% of particulates at 0.007 microns. Making Intellipure and HealthWay one of the most efficient air purifier available.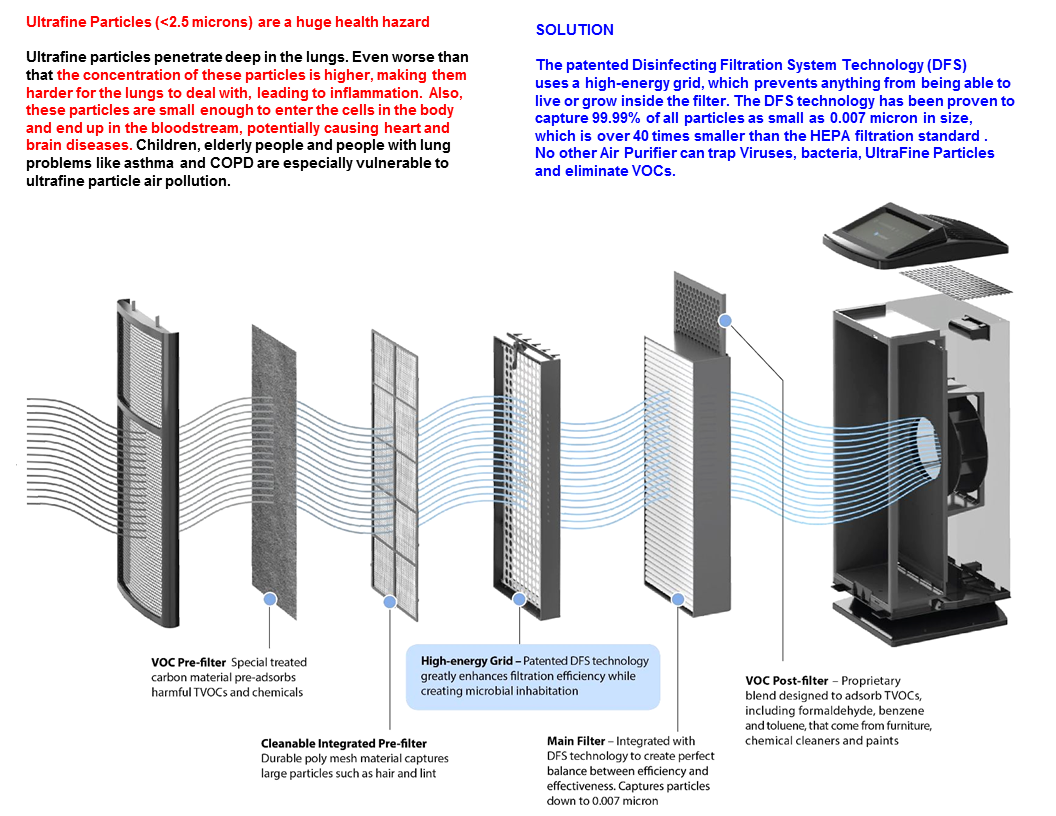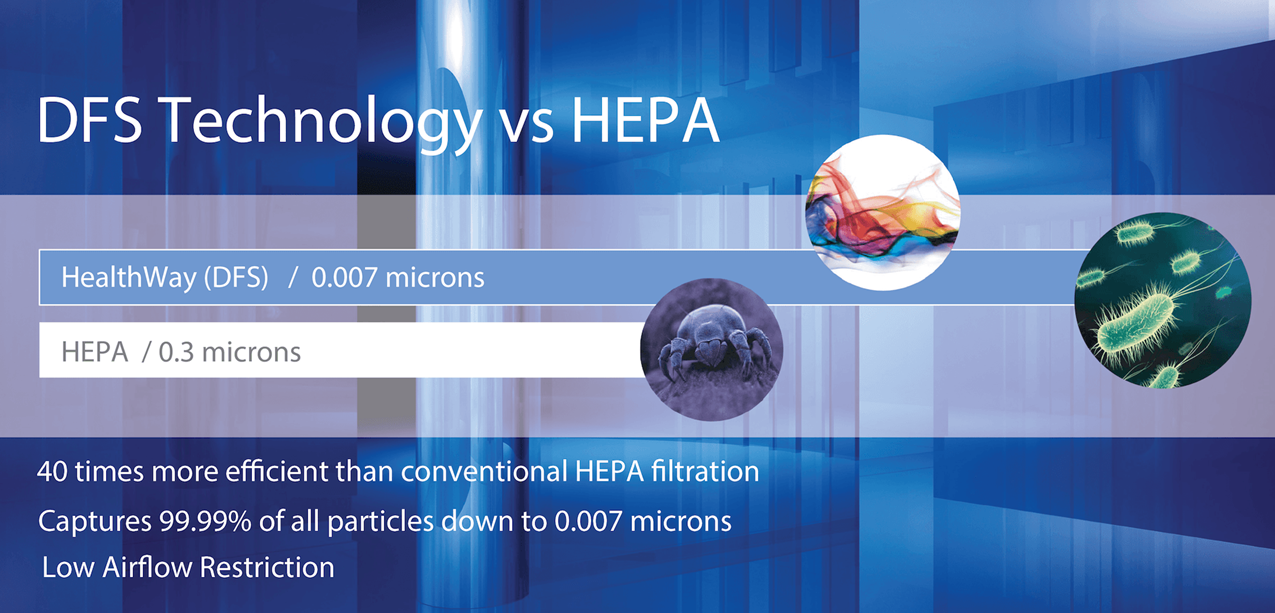 AIR PURIFIERS FOR 7000 Square Feet-SC2000
The COMPACT is designed for spaces less than 500 Square Feet